As usual, at this time of the year, we like to review the data on product recalls in the UK. Annual data for recalls of food products (from the FSA website) and electrical products (from the Electrical Safety First website) are shown below.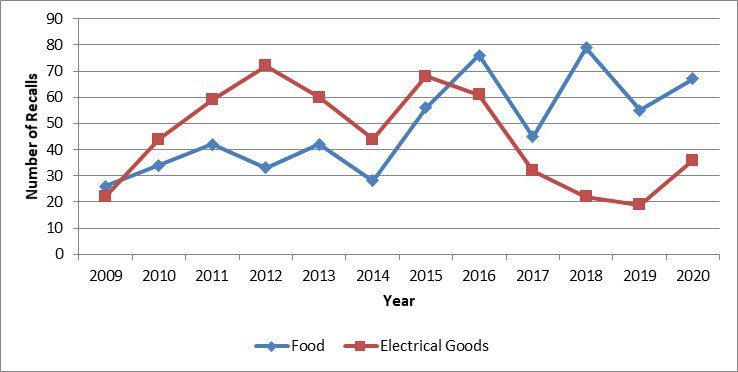 Despite my comment a year ago that "the figures are pretty low and fairly steady" for food recalls; looking at the graph now I would have to conclude that there appears to be an overall upward trend. It is difficult to say for sure, given all the year-to-year variation; but it looks like numbers have roughly doubled in the last ten years!
It's somewhat harder to make any sense of the figures for electrical product recalls. However, it's surprising to see that recalls in both categories last year were up on 2019, despite the huge reduction in economic activity because of Covid-19.
As ever, the purpose in our annual review is not to analyse the root causes or to make predictions for the future. We just want to remind people that being prepared to manage a product recall is part and parcel of doing business in many sectors. Even as we wrestle with Covid-19, we must not forget about the many other forms of disruption to which we are vulnerable.